The Art of Software: An Interview with Hannah Pruse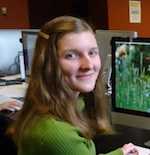 While many people think of computer science as a field that deals only in facts, Hannah Pruse knows it's also an art that requires a great deal of creativity when designing software, algorithms, and languages.
"I really enjoy challenging myself to think," says Pruse. "And computer science provides many valuable opportunities to do so both logically and creatively."
Read more of this interview at http://admissions.uoregon.edu/majors/cis/hannah_pruse.