Professor Dejing Dou to Spend Sabbatical Year at Stanford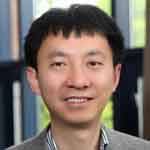 Professor Dejing Dou will spend the 2012-13 academic year on sabbatical at Stanford University, conducting research at the National Center for Biomedical Ontology. The Center is funded by the National Institutes of Health (NIH) and is part of the network of National Centers for Biomedical Computing.
Prof. Dou will collaborate with Stanford researchers Mark Musen (Professor and Division Head), Nigam Shah (Assistant Professor), Natasha Noy (Senior Research Scientist) , and  Paea LePendu (Research Scientist). Dr. LePendu received his Ph.D. at UO under Prof. Dou.
The focus of Dr. Dou's work at Stanford is Ontology-based Data Mining and Ontology-based Information Extraction and Neural Electromagnetic Ontologies (NEMO). This work will make use of huge datasets derived from Stanford Hospital's electronic health records. This research is part of the national "Big Data" research initiative announced by the federal government earlier this year.
Prof. Dou has been a faculty member in the CIS department since 2004. His research interests include Artificial Intelligence (with emphasis on ontology); data mining, data integration, biomedical and health informatics, and the semantic web. For more information about Prof. Dou and his AIM research group, see www.cs.uoregon.edu/~dou.