Prof. Eugene Luks Named to Prestigious AMS Fellows Group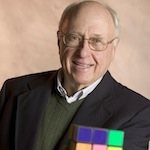 Professor Eugene Luks has been named to the inaugural group of the Fellows of the American Mathematical Society. The AMS Fellows program recognizes members who have made outstanding contributions to the creation, exposition, advancement, communication, and utilization of mathematics.
Professor Luks is internationally recognized for his research in the algorithmic complexity of problems in computational algebra. For his innovations in graph isomorphism and related issues, Professor Luks was awarded the Delbert Ray Fulkerson Prize in Discrete Mathematics by the Mathematical Programming Society and the American Mathematical Society.
After receiving a PhD in Mathematics from MIT, Professor Luks held faculty positions at Tufts University and Bucknell University before coming to UO in 1983. His early research was primarily in Lie algebras but spanned several areas before he was turned on to theory of computation.
During his career at UO, Professor Luks has taught courses in algorithms, automata theory, computational complexity, and cryptography; graduating students thrice selected him for the Department's Outstanding Teacher Award. He served as Head of the Computer Science Department from 1983 to 1992 and, although now a Professor Emeritus, is currently reprising that role on an interim basis while the Department conducts a national search for a new Head.