Oregon Cyber Security Day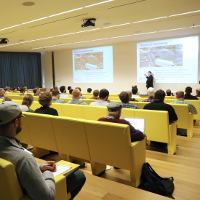 Speakers:
Ulf Lindqvist, Program Director, SRI International;
Kevin Haley, Director, Symantec Security Response;
Songwu Lu, Professor, UCLA;
Chenxi Wang, Co-founder, Jane Bond Project;
Jeff Towle, Global Security Architect Manager, Intel.

Date:
Thursday, April 20
Time:
8:30am - 5:00pm
Location:
Lee Barlow Giustina Ballroom, Ford Alumni Center, University of Oregon
Please join us for the 2017 Oregon Cyber Security Day at the University of Oregon on Thursday, April 20. The venue will be at the spectacular Lee Barlow Giustina Ballroom in the Ford Alumni Center on campus.
This event will feature a slate of distinguished speakers from academia, industry, and government, discussing current challenges and future opportunities in cybersecurity. The range of topics will be broad and diverse, such as examining future trends in computer and network security, discussing new computer security mechanisms and systems for securing the cyber space and data, and understanding cybersecurity within the federal government.
Also part of the event are many research posters and demos by UO CIS students, as well as lightening talks by UO CIS faculty. The detailed agenda is at http://securityday.cs.uoregon.edu/agenda/, with the information of talks at http://securityday.cs.uoregon.edu/talks. A complimentary breakfast and luncheon at 7:45 AM and 12:00 PM respectively.
Admission is free, but please register ASAP at http://securityday.cs.uoregon.edu/registration to reserve your seat, badge, and luncheon. Onsite registration is also available if seats are still available on April 20 (but you may not get a luncheon ticket).