What's in your packet
More to come
Bottle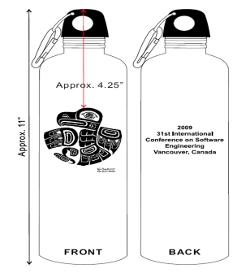 Wade Baker created the designs on the bottles in the packets. He is an accomplished artist with an impressive lineage.
Mintl-e-da-us, Wade Stephen Baker, is a North West Coast artist with a unique and inspiring story. He was born in Vancouver, British Columbia in June 1956. His mother, Emily Nelson Baker, is a Kwakiutl hereditary Chief. Her father, also a chief in a long line of true hereditary chiefs, named Her his successor at birth.
On his mother's side, Wade's ancestors include Robert Hunt and Mary Ebbot. Robert Hunt was from London, England. He came to the Canadian west coast as part of that generation of young men, usually second or third sons of nobility that worked with the Hudson's Bay Company in the mid 1800's. He ended up owning The Fort Rupert Hudson Bay Trading Post, and traveled the fur route extensively. He married Mary Ebbot, daughter of a hereditary Tlingit Chief from Alaska. They had 11 home-schooled children. The Hunts are now known as internationally renowned artists and historian.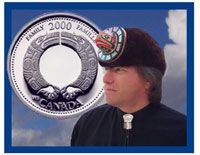 On his father's side, Wade is descended from Chief Capilano, a Coast Salish hereditary chief. John Baker came from Ireland and married into the Squamish Nation in the mid 1800'x. Wade's father Daniel Baker was a successful North Shore entrepreneur.
Wade has the rights to all the symbols of the North West Coast from his mother's ancestral lineage. They are all, in fact, considered his mother's "royal" crest. The images created by Wade reflect this ancestral heritage and provide a legitimate use that few First Nations artists can actually claim.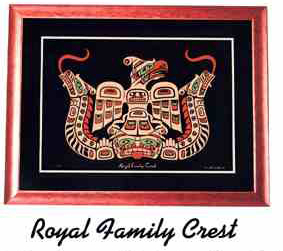 Wade's art is inspired by the great traditions passed on through his family legends, lore and the links of Pacific Northwest First Nations tribal lineage and heritage. He is able to translate the legends and history passed on through the stories told by his elders. This unique resource has inspired Wade to explore a wide range of art forms from wood carvings of totems and masks to limited edition art prints and other art forms. He was chosen to design the millennium coin for the Royal Canadian Mint in the year 2,000. Over 60,000 artists competed for this honour.
Wade and Mary made a conscious decision to stay in the Squamish Nation community in North Vancouver. They spearhead many activities to encourage a healthy lifestyle and a safer urban environment for the children and elders. Wade Baker's philosophy is that all children have a right to feel safe and feel joy.
Wad's website can be found at www.skyspiritstudio.com/