Route Based Experiment Design
We are currently designing an experiment to test various means of conveying navigation instructions to cognitively impaired users of wearable computing technology. We have created a second prototype wearable and identified four experiment routes. Some initial information about the device(s) and experiment routes is available below.

The Routes
The four routes are all in the same area of downtown Springfield, OR. This area was chosen because it is representative of many urban areas, and because our subject pool is less likely to be familiar with this area than some other similar areas in the Eugene/Springfield area. Each route begins in a different place, and ends at a different restaurant or cafe. The goal is to start a participant at the starting point and, sending navigation instructions through the device, guide them to the cafe for a beverage and then return them to the starting point via a different route.
Each of the four routes has a roughly equivalent number of "choice points". We identify "choice points" as points along a route where decisions about which direction to travel can be made. There are 3 different kinds of choice points identified: Controlled intersections, uncontrolled intersections (principally alleys), and parking lots/paths. Click on the small images of the route maps below to view a larger version.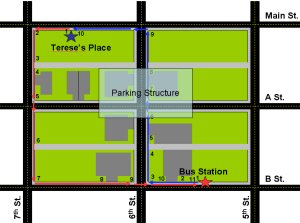 Route 1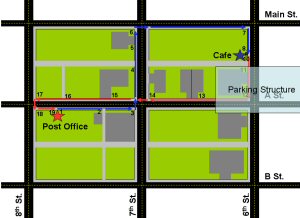 Route 2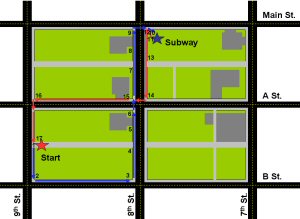 Route 3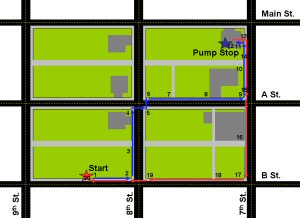 Route 4
The Device
Our prototype system for this experiment consists of a pair of iPaqs. The iPaqs communicate via a wireless ad-hoc peer-to-peer network. One is carried by the participant and the other is carried by a member of the experiment team. The controller (carried by a member of our team) is used to send text, audio, and image based directions to the client's iPaq. The controller interface can be seen below: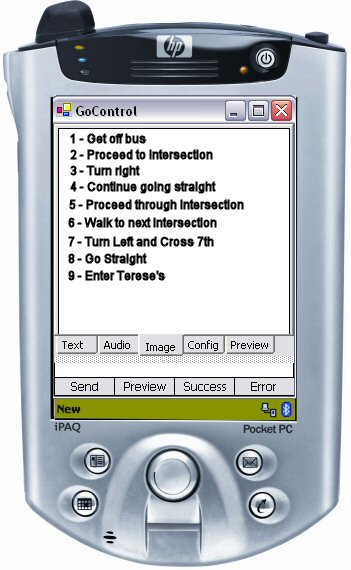 The client device plays audio files and displays images and text. An example of some image based directions can be seen below. If you click on the iPaq device below you can walk through a sample set of navigation images.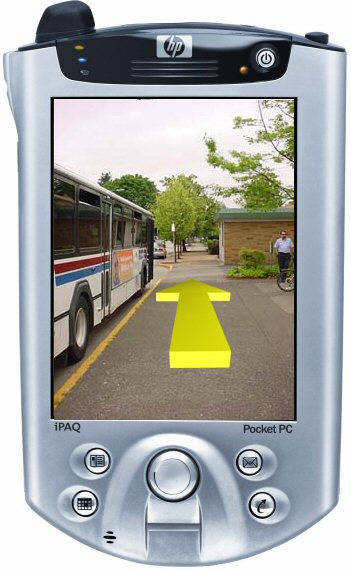 Here are some sample sound files containing directions for route #1:
1 - Step off bus turn left.wav
3 - Turn right at intersection.wav
4 - Walk to parking struct.wav
7 - Continue walking forward.wav
The images and sound files for route #1 are not necessarily the images and sound files which will be used when the experiment is carried out. They are posted here for the purpose of illustration, not as a representation of the exact content used in the experiment.